The First Visit "Home"
The First Visit "Home"
By Julie Walker 
For the last 3 years I've been introducing my American husband and kids to the delights, quirks, and oddities of life in Melbourne. They've assimilated well so far (they pronounce Melbourne and G'day with enough Aussie twang to pass muster). But since it had been years with only a few visitors making the long trek to visit, we were definitely overdue for a trip home to SoCal to see family and friends. 
Before leaving we strategized about how best to spend our two weeks in California. Aside from the obvious Grandma and Grandpa time, the kids shared the things they missed and were looking forward to. My 12 year old son, Jordan, seemed to want to eat his way across the state - with a leaning towards burgers for every meal. His "to do" list included; Five Guys, 24 Degrees, Wendy's, Grandpa's BBQ Ribs, Jack-in-the-Box, DQ, Surf Brother's Teriyaki, and a Double-Double from In'N'Out. My 11-going-on-25-year-old daughter, Anika, had a similar laser-like focus, but on clothes shopping; Justice, Gap, TJ Maxx, Ross, Charming Charlie, Nordstrom, and of course, Bloomingdales.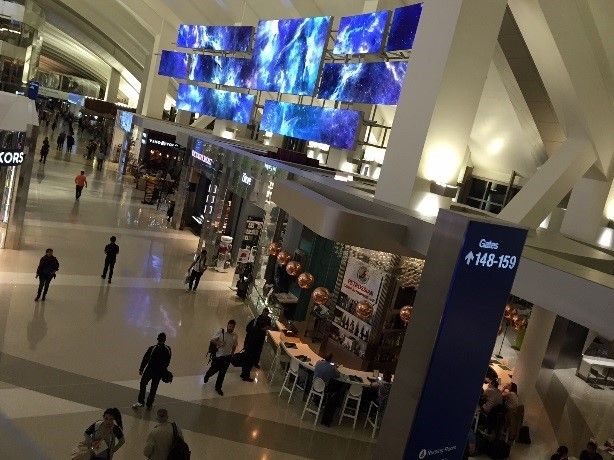 Now, I have a confession. I'm not an American expat... but, I have spent more than 17 years of my adult life living in the US and I do miss all of those things. (Well, maybe not Jack in the Box - but the Double-Double sounded good.) While I wanted to make sure the kids fulfilled their dreams I was determined not to arrive back heavier or poorer!
So with our passports and our lists in hand, we set off on the long flight to LAX. And before you know it we land slap, bang in the middle of the mad spaghetti-like streets of Los Angeles.
I'd almost forgotten how much concrete there is. And how many PEOPLE there are!! Lanes of cars ribboned before us as we re-introduced ourselves to wipers on the left and blinkers on the right. I can't believe the traffic kept flowing and millions of people went about their day completely oblivious to the mini-van with the wipers going on and off every time it turned a corner.
For the next two weeks we got to be tourists in our home town. There was no schedule, no routine to follow - just the freedom to do all the things that we didn't do when we were living there. Window shopping (actually more like just window-drooling) on Rodeo Drive, lunching in Beverly Hills, snapping photos on the Hollywood Walk of Fame, riding roller coasters at Universal Studios, watching street performers on Venice Beach, finding Mickey at Disneyland, more roller coasters at Knott's Berry Farm and Legoland, tasting beers at Stone Brewery, getting some sun at China Beach, watching the dogs run on Carlsbad Beach, getting some culture at LACMA… the days were filled with laughs and hugs and lots of selfies.
And we saw as many of our friends and loved ones as we could squeeze in. There's not enough time to fit in all of the long, cocktail-fuelled, reminiscent conversations we could have. A softball game here, a quick coffee there. Family bonds are still strong. Stories are shared. Friends have moved. Kids have grown. Time keeps ticking and life goes on.
And before you know it, it's time to go. The day to fly home kind of sneaks up on you when you're not paying attention.
But wait! We haven't seen everyone yet! We haven't done all the things that we wanted to do. I'M NOT READY!
The hugs are too short, the tears of goodbye sting too much. Leaving is hard for us all and as much as we love Australia I don't think our hearts will ever get used to being split between two continents. We'll just have to plan our next trip home. 
Besides… I never did get my Double-Double.