Guide to Traveling Like an Aussie- Part I
Guide to Traveling Like an Aussie
By Megan Farquhar
Part I: Queenstown, New Zealand
For Expats who love to travel, moving across to the other side of the globe opens up a whole new region of the world to explore. Destinations like New Zealand, Indonesia, and Thailand all of a sudden become our new getaway spots because they are only a short flight away. Before I came to Australia I imagined New Zealand being a million miles away and now it's practically at our doorstep. These are my tips for traveling like an Aussie and making the most out of living down under.
Best Time of Year to Visit:
Queenstown is great to visit in summer or winter it just depends what you're after. During the winter there is snow and amazing skiing. In summer there is beautiful weather which makes outdoor activities quite enjoyable. Queenstown is located in the South Island of New Zealand which is fairly far south of the equator. Therefore, temperatures are cooler in New Zealand than Australia even during the summer. It's a great place to go to escape Melbourne's summer heat and enjoy some milder weather and surreal landscape.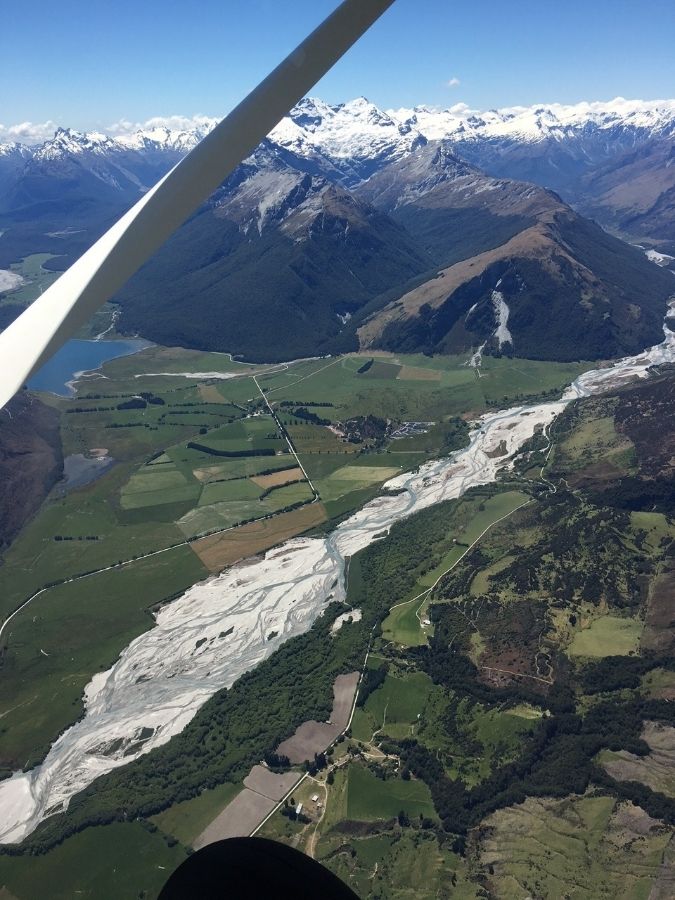 What to do:
Where do I even start? Honestly I could just sit and stare at the views of Queenstown all day because it's truly one of the most breathtaking locations on the planet. There are so many great activities though, you won't want to stay idle for long. There is something for everyone no matter how adventurous or relaxed your ideal vacation is.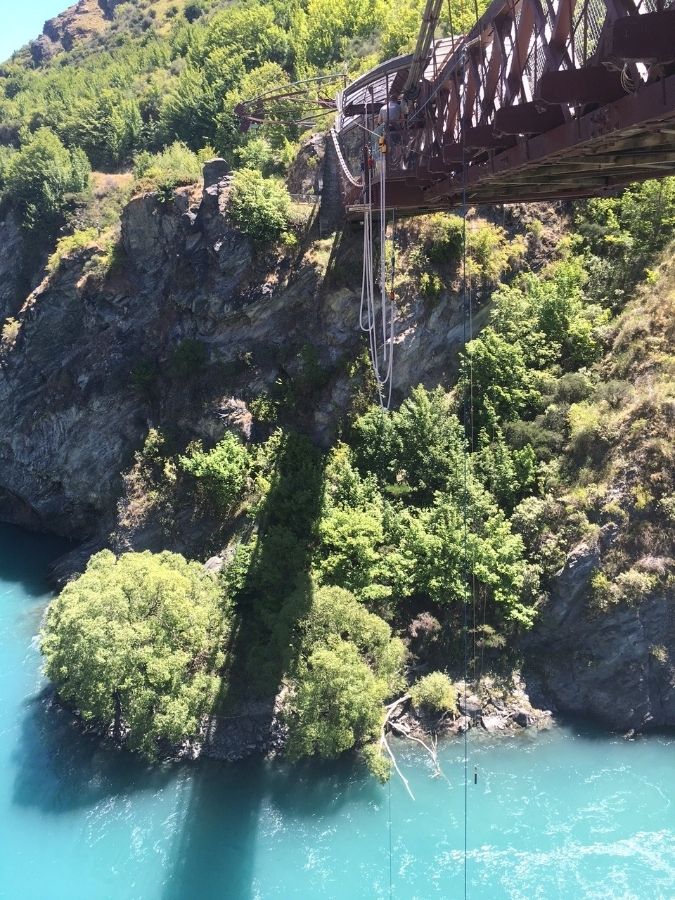 For the adrenaline junkies:
-Bungy jumping (Queenstown is home to the first ever commercial bungy jump in the world called AJ Hackett. The 43 meter jump is off the Kawarau Bridge and there's the option to drunk in the river.)
-Sky diving
-Canyon Swing (Sort of like bungy jumping but you swing through a canyon)
For the semi-adrenaline junkies:
-Jet boating (These are really fast speed boats and the drivers are experts in 360s and crazy twists and turns. You will get wet!)
-White water rafting (I recommend the Shotover River. Warning: The bus that takes you to the launch spot drives on the 13th most dangerous road in the world. Getting there is half the battle!)
-Zip Lining
-Skiing or Snowboarding (colder months)
-Helicopter to the Remarkables Mountain Range
-Downhill Luging (Sort of like a soap box car and you race down a track. There's an easy course and expert course. Kid friendly.)
For the non-adrenaline junkies:
-Wine tasting! Many great vineyards and the Central Otago region is known for Pinot Noir and Chardonnay.)  
-Hiking (There is no shortage of exquisite hikes, waterfalls and scenery!)
-Horseback riding through Paradise (This is where Lord of the Rings and other famous movies were filmed. Nonexperienced horseback riders are welcome.)
-Fly/Boat/Fly to Milford Sound (Highly recommend this for a once in a lifetime experience. A small plane flies you to Milford Sound where you then take a boat cruise and then fly back. Departs out of Queenstown.)
-Lake activities such as stand-up paddle boarding, kayaking, or just finding a beautiful spot to picnic on the sand.
Where to Stay:
There is a wide range of accommodations to choose from in Queenstown. There's everything from budget lodges to five star hotels and many Airbnb options. Airbnb if you're unfamiliar with it (VRBO is the same) is essentially a vacation rental home or apartment. This is a great option if you have multiple people in your group or looking for a less expensive option. I had family visiting from the US so we rented a three bedroom house in Queenstown overlooking the lake with spectacular views. The price was a fraction of the cost to rent three separate hotel rooms. However, if you want the luxury and amenities of a five star hotel to enjoy a lavish getaway, I recommend the Sofitel Hotel and Spa. Whichever accommodation style you choose, stay somewhere near downtown.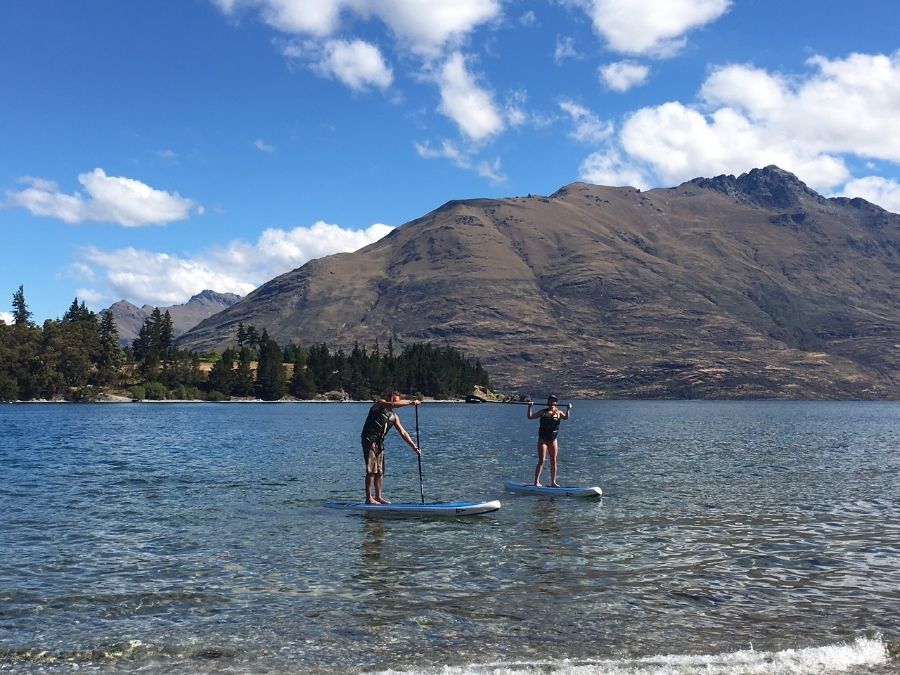 Where to Eat:
One of the most popular places to eat in town is Fergburger which has become a town icon. In n Out Burger has nothing on this burger joint! I recommend avoiding lunch and dinner hours because it can be over an hour wait. You'll have better luck avoiding long lines if you have a late lunch or late dinner. Whatever the wait though, it's worth it! Eat at Whinnies for interesting, gourmet pizzas. If you're looking for something a little finer then check out Rata restaurant or The Bunker. For a spectacular view take the gondola up to Stratosfare Restaurant.
Just Outside of Queenstown:
If you rent a car then definitely road trip to Wanaka. It's approximately an hour drive from Queenstown and there are great wineries and exquisite views along the way. Make sure to stop at the Roaring Meg Lookout point. Wanaka is a cute, relaxed lake town with, you guessed it, beautiful scenery! There are many paddleboards, kayaks, and lake activities for hire along the shore. There are also many trendy restaurants and bars on the lake front.
Words of Advice:
There are direct flights through Air New Zealand and Jetstar from Melbourne (3hr flight). Pack warm clothes even if visiting during summer, evenings can get cold. There are no Ubers in Queenstown, but most things are walking distance or there are taxis. Essentially you don't need to rent a car unless you plan on visiting places outside of Queenstown. The airport is only a 15 minute drive from downtown. If you do any lake activities wear a life jacket, it's a $300 fine for not having one.